Staying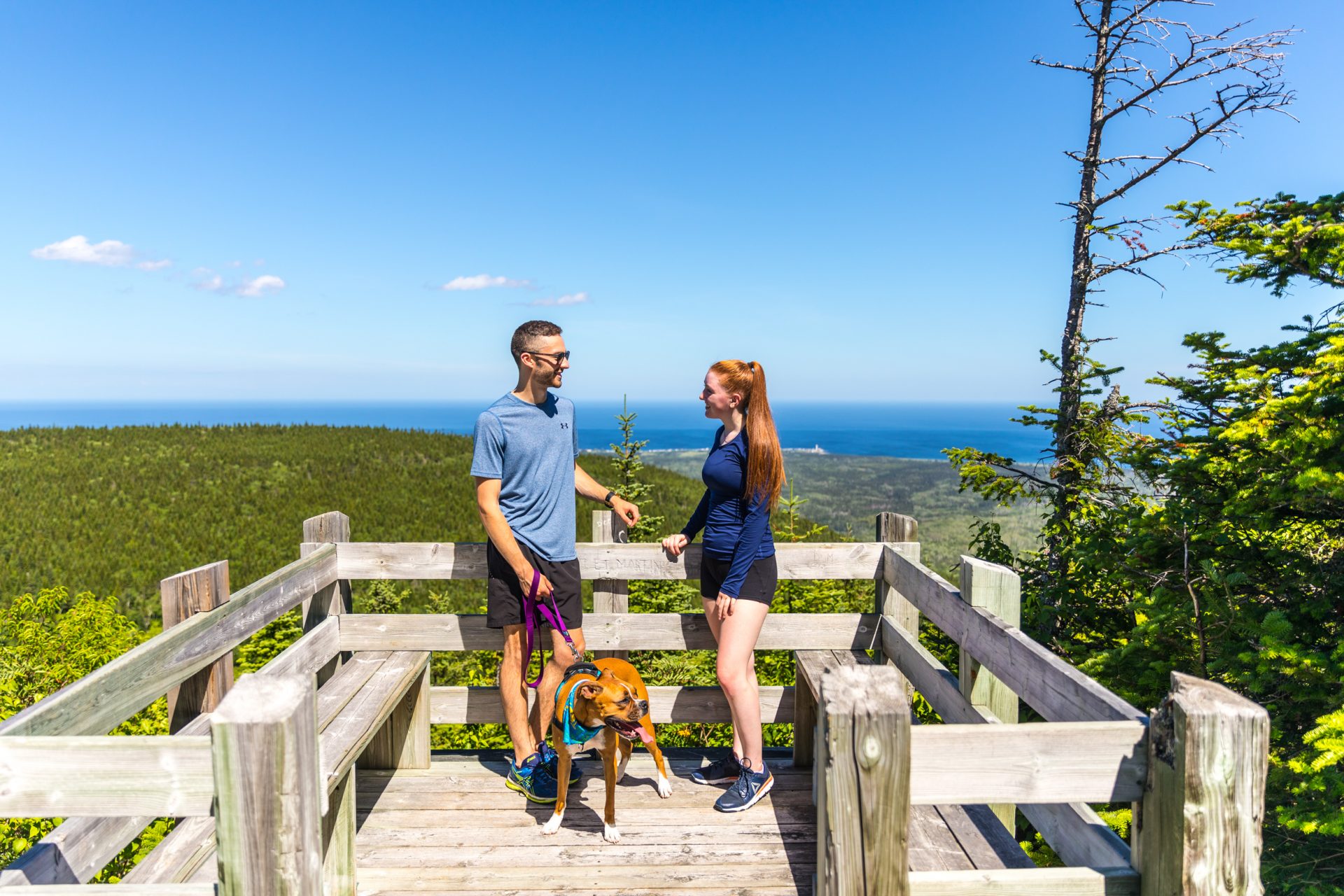 Staying in Gaspé
During your stay in Gaspésie, sheer delight awaits you at the eastern end of Gaspé's peninsula: 150 km of coastline of magnificent seascapes and mountain views. Gaspé also offers many natural jewels that are great for outdoor activities, as well as a wide range of attractions that bring umpteen visitors all year round.
Forillon National Park
With its majestic scenery featuring steep cliffs that drop right into the sea, Forillon National Park covers an area of 244.8 km2, including a  4.4 km2 coastal strip more than 150 m wide. Bordering the Gulf of St. Lawrence and Gaspé Bay, this mountain peninsula of rare beauty is situated at the tip of the Gaspé Peninsula.
Explore its majestic landscapes by hiking its many nature trails. Discover its rich biodiversity, including many species of seabirds, seal colonies, whales and other cetaceans. Learn the fascinating story of Forillon's first inhabitants while participating in the park's interpretive activities and visiting its heritage buildings. And don't forget to save some time to chill on the warm Penouille beach! This superb sandy spit is ideal for swimming, sunbathing and building castles: a pure delight for the whole family. Forillon National Park is also a great place for many other activities, especially in the summer, including cycling, sea kayaking, paddle boarding, kite surfing, wharf fishing and camping.
Gaspé Bay
Almost 30 km long in the Gulf of St. Lawrence, Gaspé Bay witnessed the beginnings of the French adventure in North America. It is in this precise location that, in 1534, the explorer Jacques Cartier erected a cross, taking possession of the territory on behalf of the King of France.
And for enthusiasts of whale watching, sailing, kayaking and other water sports, Gaspé Bay is one of the most interesting waterways in Eastern Canada! Walkers and bathers will simply be amazed by its beautiful beaches. In autumn, a true symphony of colours awaits international cruisers during their stopover in the region.
Salmon Rivers
A true paradise for salmon fishing, the York, Saint John and Dartmouth rivers all flow into Gaspé Bay. Boasting an international reputation, they offer visitors an exceptional fishing experience in dazzling wild landscapes.
One the most coveted rivers in Canada, the York River has its source in the Chic-Chocs Mountains. Before reaching Gaspé Bay, it flows 98 km, mainly through uninhabited land, and is characterized by its beautiful emerald-green waters. Known for its sparkling clarity, the Saint John River is at the eastern tip of the Gaspé Peninsula.
Like the York River, it rises in the Chic-Chocs Mountains and flows some 121 km and drains into the Gaspé Bay at above Douglastown. And last but not least, the Dartmouth River, which has its source in the northeastern part of Gaspésie, offers both tranquility and breathtaking landscapes. It empties into Gaspé surrounded by rural communities, but for most of its course flows through uninhabited land.
For more information, please contact Société de gestion des rivières de Gaspé (SGRG)