Driftwood, a Valuable Ally Against Shoreline Erosion
25 Aug 2020
par

Parc National Forillon National Park
On a sunny afternoon, what a joy it is to go for a stroll or a picnic on one of Forillon National Park's beaches and, who knows, maybe even to dip your big toe in the water. When visitors arrive, they sometimes wonder why Parks Canada does not clear the deadwood off the beach.
First of all, it is important to know that Forillon is a conservation park and that nature does exemplary work here. Wood and algae washing up on the beach is a natural phenomenon, which is why the seashore is left as it is.
While some may consider it to mar the beauty of the surrounding landscape, driftwood is a valuable ally against shoreline erosion. In fact, in Forillon National Park, it is said that this driftwood is actually "at work" and that it is therefore better not to disturb it. (Beach fires are banned in the park anyhow so don't even think about it!)
From the perspective of the park's conservation criteria, a beach with wood is naturally beautiful and very clean. "If we want to keep our beaches for a long time, we must allow driftwood to play its active role. We still make sure that visitors have 100 to 200 metres of clearance along the perimeter of the beach so that they can enjoy it," says Daniel Sigouin, Ecologist at Forillon National Park.
Understanding the phenomenon of coastal erosion
To start, coastal erosion is a natural phenomenon but it has worsened in recent years with climate change.
When an infrastructure is placed on the seashore, whether it be a road or riprap, we find that waves batter the barrier and go deeper underneath it. The impact increases and, as a result, this gradually destroys not only the infrastructure but also the beach.
The old Penouille road, which is now a pathway that stretches over more than 600 metres, is an example, as is the old Du Banc road in Cap‑des‑Rosiers, nearly 1.5 km of which was riprapped. Learn more by watching our two videos on this topic:
The role of driftwood
Driftwood is slightly more flexible than a concrete infrastructure. When the wave hits it, it moves just enough to allow the sand to surround and slowly bury it. It does not impede the movement of the water, and it even ends up holding the substrate (the sand) in place enough for a second major ally to take action against shoreline erosion: plants.
Shoreline plants, such as sand ryegrass and beach pea, live in very harsh conditions. Driftwood therefore creates a place with just enough shelter from waves that they can settle and develop roots that hold the sand and fight erosion.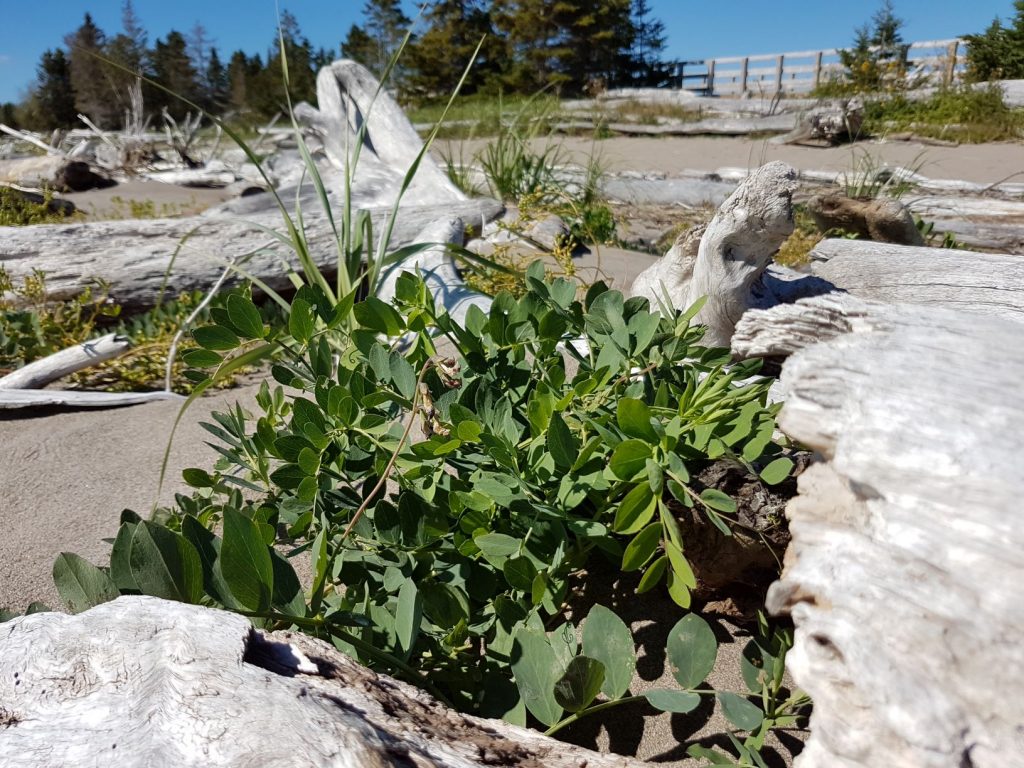 You too have a role to play
It's easy to make a difference and contribute to the sustainability of the Forillon and Gaspé beaches. Here are three very simple tips:
Watch where you step. Avoid walking between driftwood and vegetation.
Leave the wood in place. Don't move it, regardless of your creative project.
Pass the information. Explain the important role of driftwood to your friends, family or visitor.
If you want, experiment by taking a photo of an area with driftwood at work and return every year to take a photo in the same spot. What changes will you notice? Surprise guaranteed!
Retour